TIER
DOB: February 2007 – went missing 13 February 2010
KABOUTER
DOB: September 2007 – went missing 13 February 2010
KADOESIE
DOB: September 2007 – went missing 13 February 2010
LASALLE
DOB: 16 November 2014 – 02 June 2019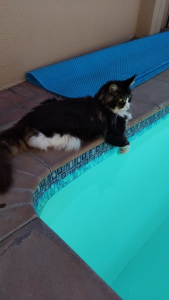 Already ill, but improvement on the Cortisone treatment.
The last photo of Lasalle was taken by me before he passed away the next morning.  I was alone with him.  Despite the fact that I am blind, the photo is perfectly in focus.   It captured the essence of the very special bond between Lasalle and me….How amazing…how precious…
CANCER!!! RELENTLESS DESTROYER OF LIFE!
"Sometimes a very special cat enters our lives…their presence changes our hearts forever.
And we can call ourselves blessed for having known them"
"If I should go tomorrow
It would never be goodbye,
For I have left my heart with you,
So don't you ever cry.
The love that's deep within me,
Shall reach you from the stars,
You'll feel it from the heavens,
And it will heal the scars."
VIOLA BLACK BEAUTY
THE ONE AND ONLY VOLLA BOLLA
DOB: 24 September 2012 – 29 September 2021
The last photo of Volla sleeping with Tienka.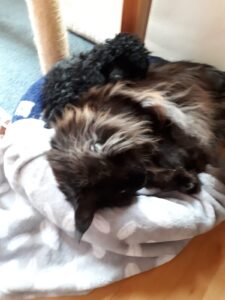 "I should know enough about loss to realize that you never really stop missing someone-you just learn to live around the huge gaping hole of their
absence." – Alyson Noel
"Death leaves a heartache no one can heal, love leaves a memory no one can steal." – Unknown
"What we have once enjoyed deeply we can never lose. All that we love deeply becomes a part of us." –
Helen Keller